Wellcode Warehouse Module is the implementation of Warehouse Management.
The warehouse management is integrated in the Wello modules, such as Wello Logistics. In addition to actions carried out by the user, internal actions can be triggered automatically, such as on a tour or job that can transport or move material.
Warehouses
With Wello Warehouse can :
Any number of warehouses can be managed.
Each warehouse can house multiple locations.
The locations can then be dismantled into shelves.
Each shelf can contain any number of shelf positions.
The warehouse locations can be structured hierarchically
It can thus i. a. warehouse-like locations, such as parks, recycling depots
All warehouses, locations, shelves and shelf positions can be supplemented by pictures
This allows each warehouse or warehouse complex to be displayed hierarchically.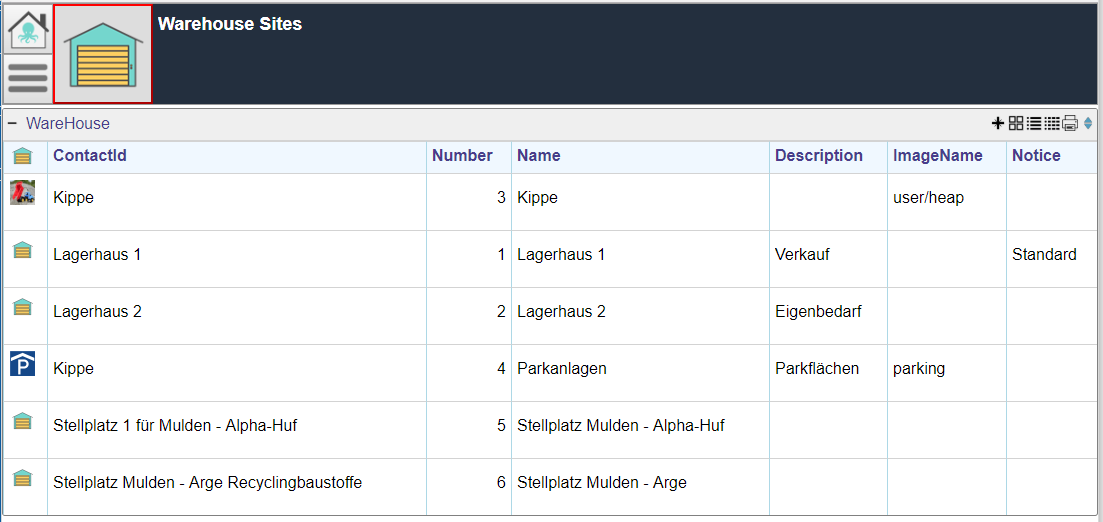 Article and material management
The article root starts with the intelligent standardized search mask without overloading the mask with search field input. The multifunction search allows to find any article with any properties.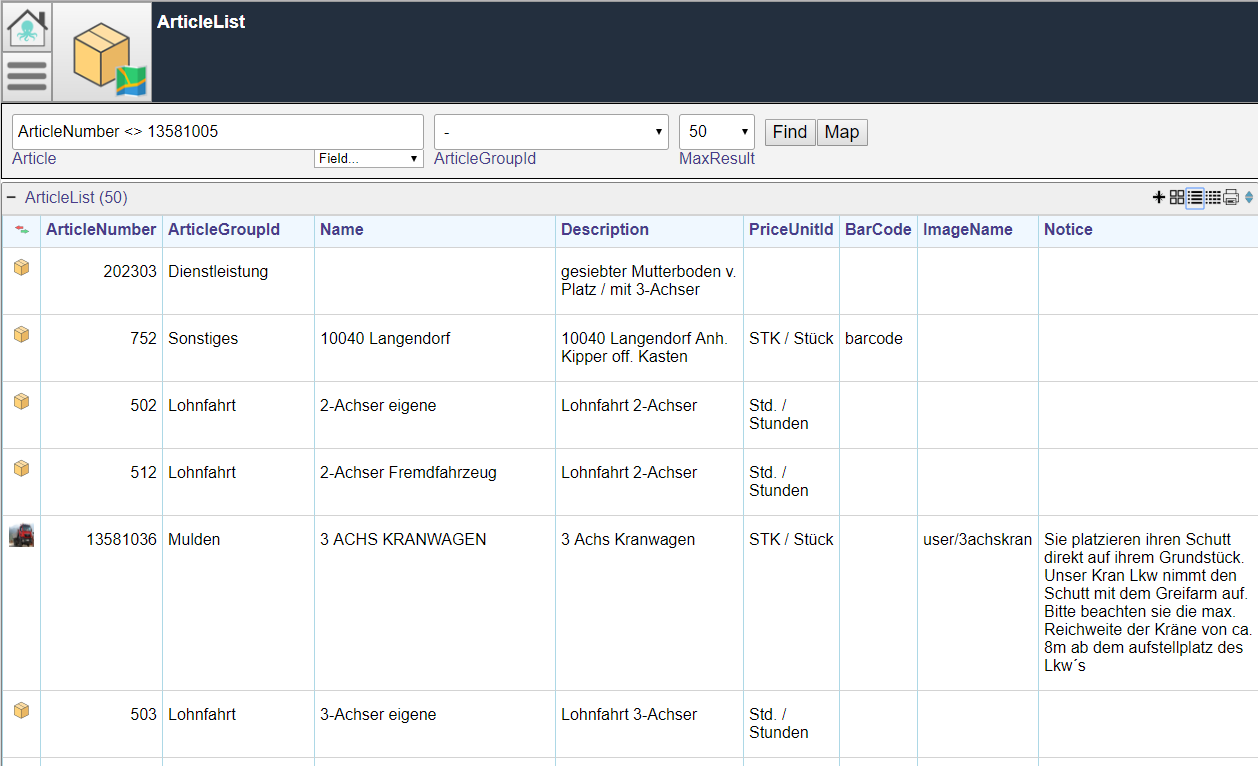 each article can:
Sales units with price, quantity and unit are recorded
Delivery units with price, quantity, unit and possibly supplier are recorded
Any number of article locations can be managed
The current inventory of the article can be observed
You can manage minimum, maximum, and order quantities tied to different storage locations
Wello Warehouse differentiates between delivery and withdrawal or
Sales units and allows the user the freedom to reproduce these on the actual Abläuften.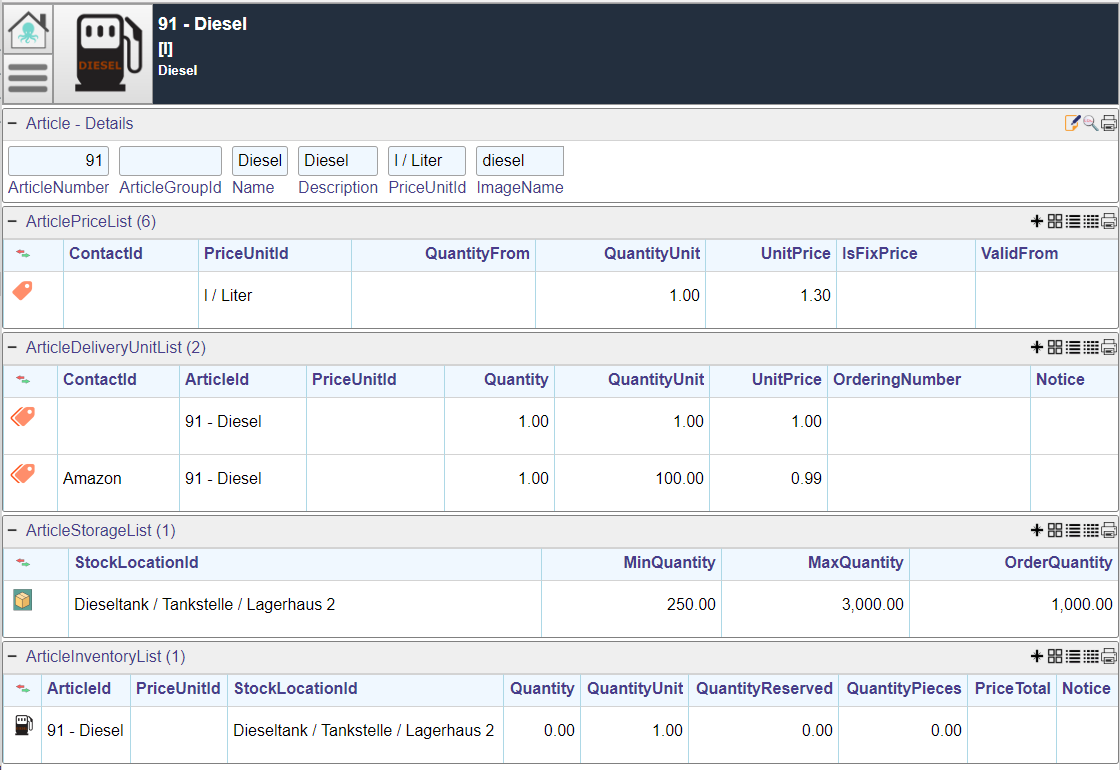 Goods receipt & Issue
The direct stock movements can be processed via the central search and input mask for stock movements. In this mask i. a. previous stock movements are considered.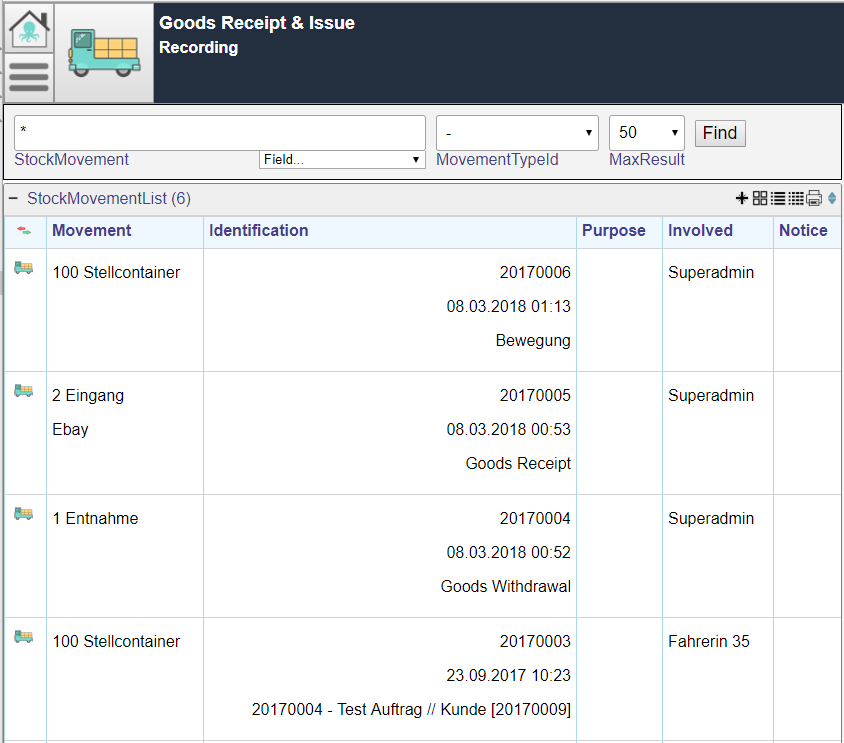 Stock movements can be summarized so larger deliveries / withdrawals can be tracked at a later time.

The individual positions of a stock movement

In addition, the warehouse movement types can be extended as required by the user.
stock
The stock of an article can be observed at various points in the program and managed if necessary.
In addition, there is a search and administration page with Wello's standardized and intelligent search functionality.
Stock can only be edited directly by authorized users (Admin role).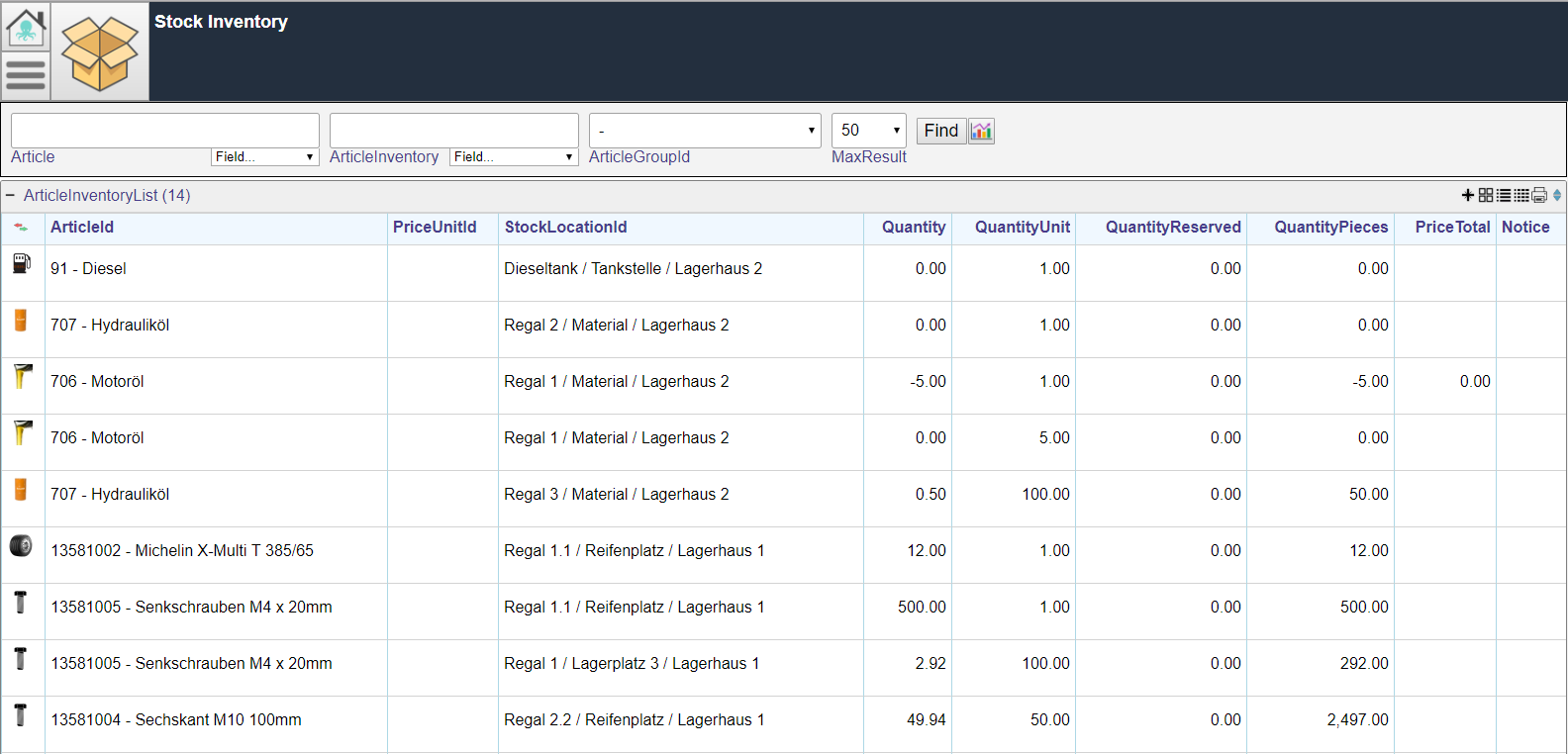 stock movement
As with the stock, the individual stock movements can be searched across and journal-style and changed if necessary. For a central entry from the menu is possible. There detailed search options are integrated.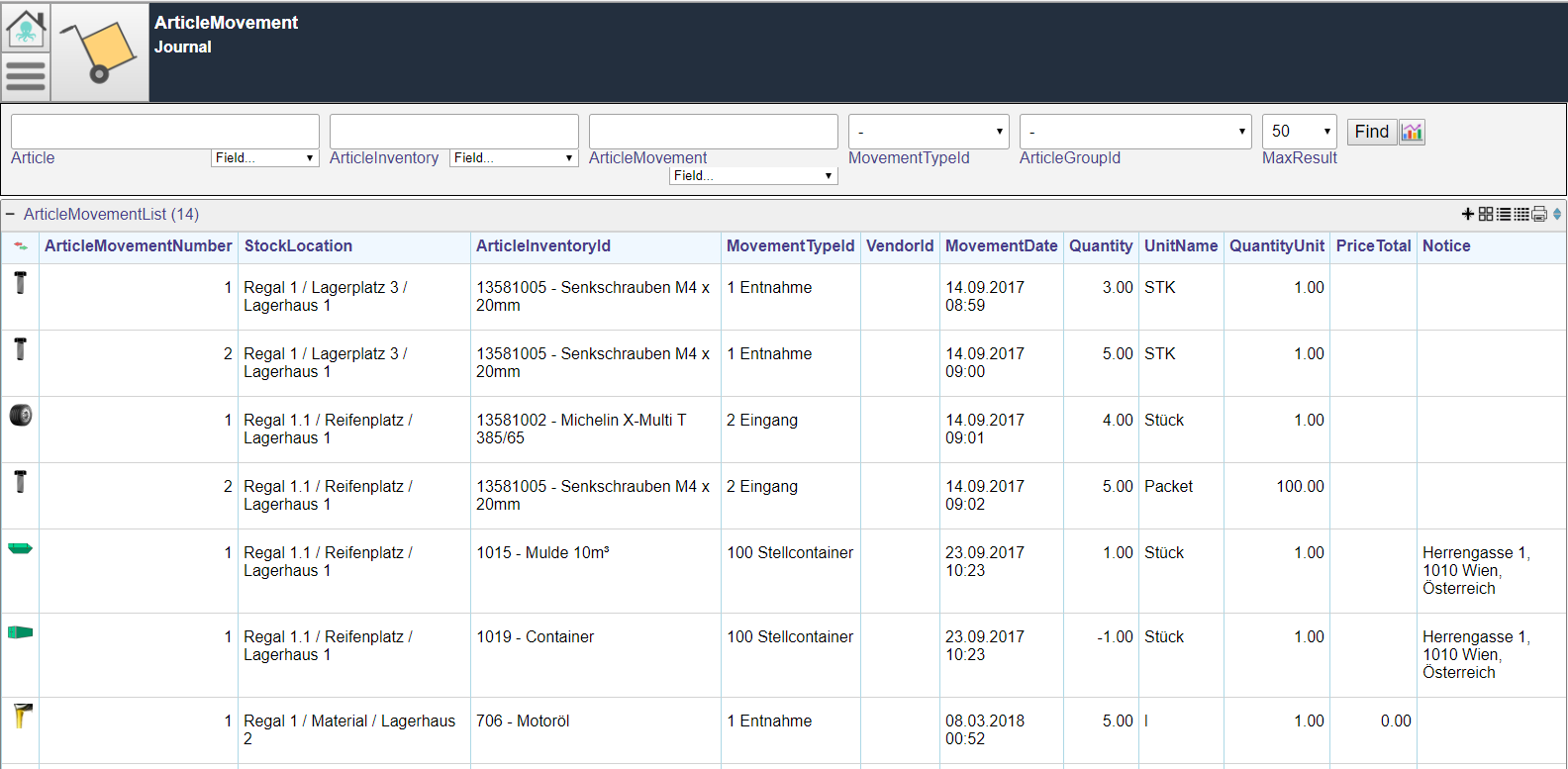 Product groups
Here the article groups can be configured as required.
Price and delivery units
Here, the removal and delivery units can be managed.
Stock movement types
The warehouse withdrawals or entrances can be customized as required and reflect all realistic stock movements.
Logging
All inventory management changes can be tracked through Wello's standardized and cross-program integrated logging feature.
Wello integrates a change history search mask that searches all changes. You can search for specific changes or simply display the last x-any changes.
Each log entry shows the change action, the user, the source (computer), the date, and the changed object.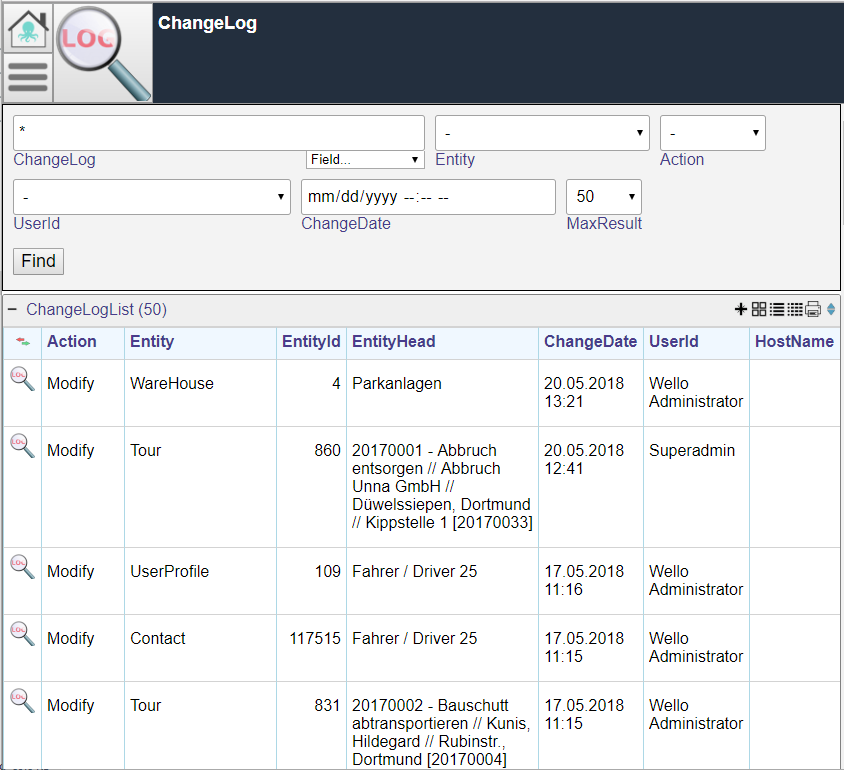 If a change history is clicked, the detailed view of the change will be displayed. a. which field (new, old) has been changed. From there you can also click on the changed object and view its current content, so you can track every change in a very comfortable way.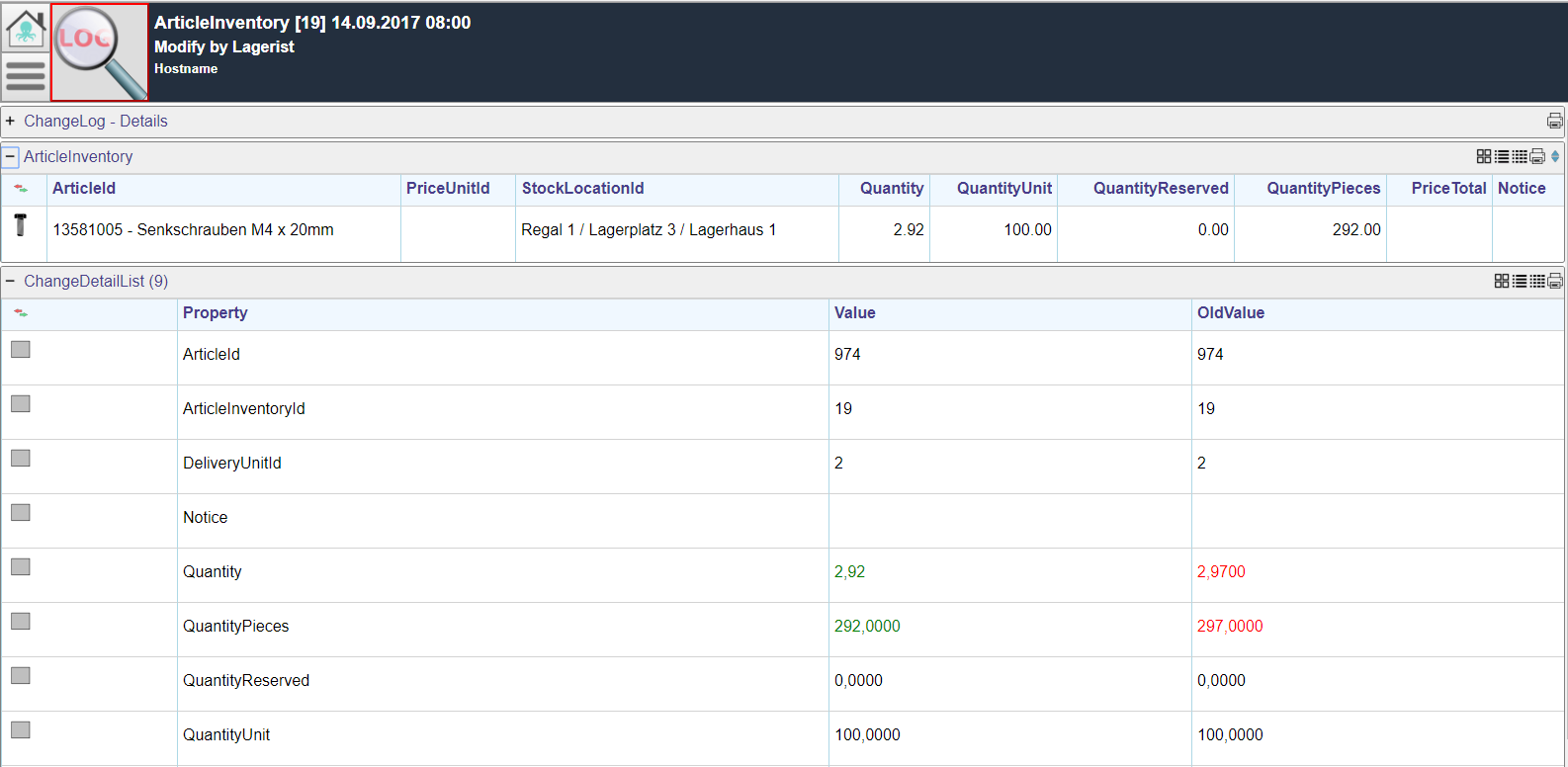 Mobile device ability
With the mobile phone through the storage aisles
All Wello modules are mobile-ready and can be operated with all common mobile devices.
In warehouse management, special emphasis has again been placed on completing all common actions with the mobile devices. The barcode capability of various mobile devices is supported. It also supports the insertion of classic barcode devices.