Wello Telematics Module is an extension of the Wello Logistics solution and deals with locating, detecting, historizing and archiving retrievable data from value units (eg vehicles) provided by GPS Fleet Providers.
The module connects to the GPS Fleet Provider (or WebFleet) and synchronizes with the data stored there in the background. Here are :
All value units recorded in the GPS system (including vehicles) are read in and automatically connected to the vehicles in the system.
All drivers recorded in the GPS system are read in and connected to the drivers in the system.
All GPS positions of the value units are read in and stored historically.
Status of the GPS value units are read in and stored historically.
Driver's logbooks are read in and historically archived.
The synchronization runs in the background and can be time controlled. For example, current positions can be read in every minute.
Optionally, changed data can be written back to WebFleet (bidirectional synchronization).
The o. G. Data is used during tour recording and so actions can be triggered automatically.
If z.B , for example, another driver deviates from the planning and is on a tour, the actual driver will be assigned directly to the tour during execution.
For each tour, the actual route no time Limit– can -wide in the past / are represented visually.
In the customer view, customers can track the status of their orders and watch where the vehicle is on the way to them.
The module calculates the optimal route (including alternative routes) to the destination and automatically displays them on the map, clicking a button activates the navigation on the mobile devices and starts the journey.
Optionally, tours and jobs can be written to the WebFleet portal used to create a seamless transition between the two systems and to continue to use available media.
Automatic detection tour start / end
By activating an auto mode, the application automatically detects when a tour has been started or stopped by tracking the vehicle route. The signals are immediately visible in the control center and so released vehicles can be re-scheduled without any loss of time.
Together with the car detection of the driver of a vehicle, scheduling becomes child's play.
Simultaneous use of different WEB Fleet systems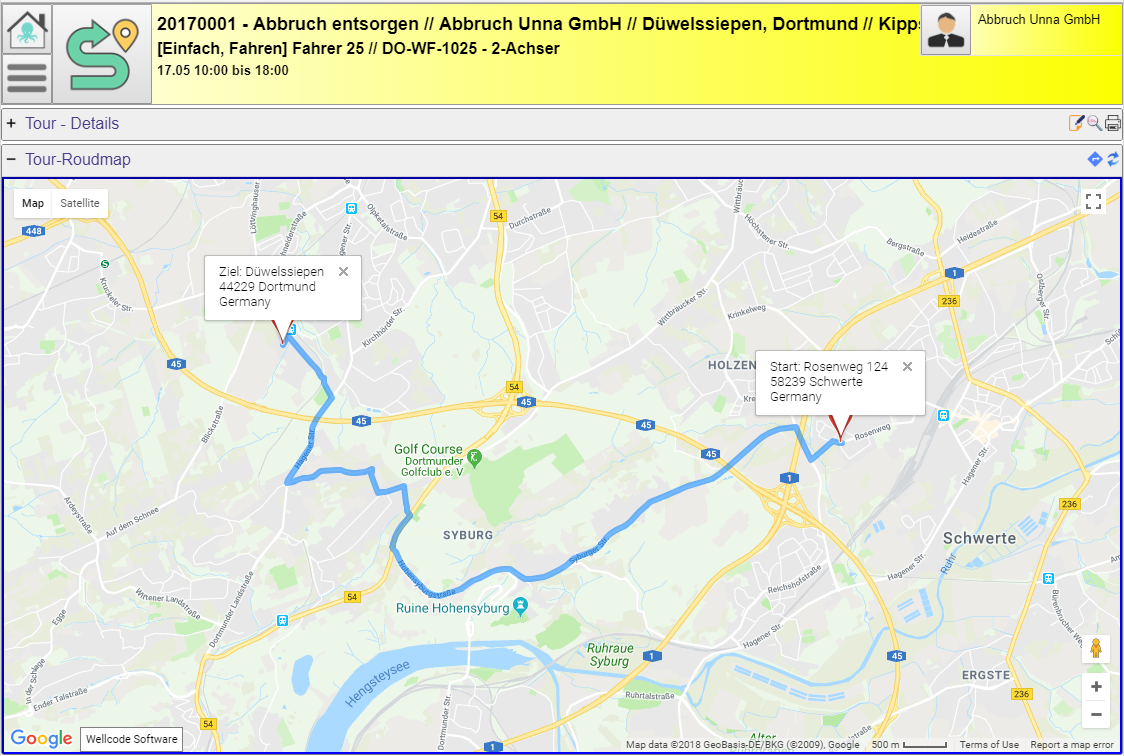 performance
Wello Telematics module differs from common solutions in one essential point.
The use of the GPS information for the tour planning or customer tracking does not happen directly via the GPS provider, but (as already described above) is accessed on already retrieved data.
The provision of the GSP information is thus detached from the use of this data. If the GPS provider is not or partially reachable during peak times or due to technical problems, this does not affect the daily work.
The collection of GPS information is done separately on the designated server (as a Windows service).